Jemn View Farms Event Center Services
We believe a venue should be obtainable for the average person and not cost an arm and a leg to have a wedding, family reunion, or any event you would like to have here. We only offer one package and that includes Barn for both Friday for set-up and rehearsal dinner and all day Saturday till 11:00 pm, Round Tables, Chairs, Linens, 3-section Steam Table, Props, a basic centerpiece, and anything that is in the barn goes with the price. You are responsible for your Caterer, DJ, and Photographer. The price to rent the barn is $2,700 of which $1,000 (non-refundable) deposit will hold your date of the event and comes off the $2,700 and the remainder ($1,700) is due 60 days from the event date. Contact us today to reserve your date!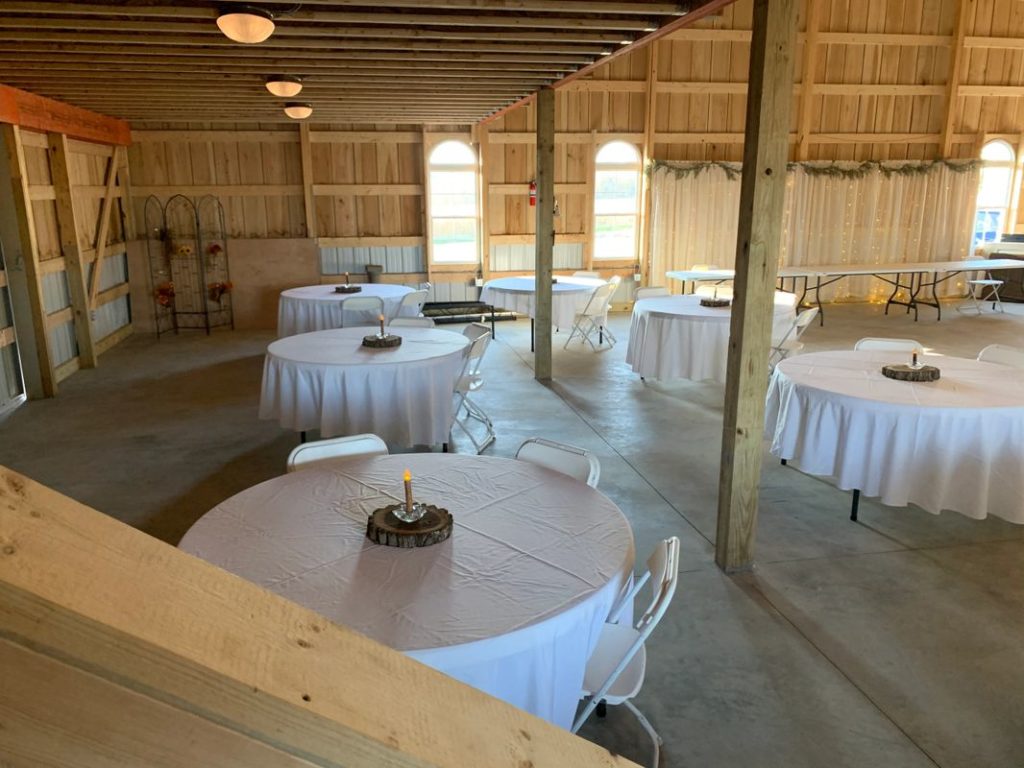 Looking to have your dream wedding in a beautiful barn overlooking an amazing landscape for photos. Look no further than Jemn View Farms where we make your dream wedding a reality. No worries about the weather we have space inside and outside available. We have dressing rooms for both the bride and the groom and their parties to get ready in, along with decorations if desired. We are here to make your special day become a reality. 
Want to celebrate the graduate in your life and recognize them for their accomplishments? Look no further than Jemn View Farms to make that happen. We can accommodate up to 200 guest and have plenty of space inside and out to show your graduate how proud you are of them.  We have decorations if you are interested in those and offer clean up services as well. 
Want to have a big reunion to get generations together and reminisce of the good times past and present? Jemn View Farms has you covered. No need to worry about the weather you have access to inside and outside of the venue and we have plenty of space for everyone.  This would be the perfect place to hold a reunion we have the tables and space you need to accommodate the entire family and extended family as well. 
Corporate Meetings and Retreats
Whether it is a corporate meeting or a corporate retreat at Jemn View Farms we have the space to accommodate these types of events. We can make your meeting or retreat a memorable one for those that are helping hands in your business. We have plenty of room to have break out sessions in groups and can accommodate 200 people so plenty of space to have a great corporate meeting or retreat.
Questions and or Concerns
Looking to book a date for your wedding, graduation, family reunion or corporate meeting. Contact us today to make your reservation. We are booking now for 2022!!!! Hurry before the dates fill up!!